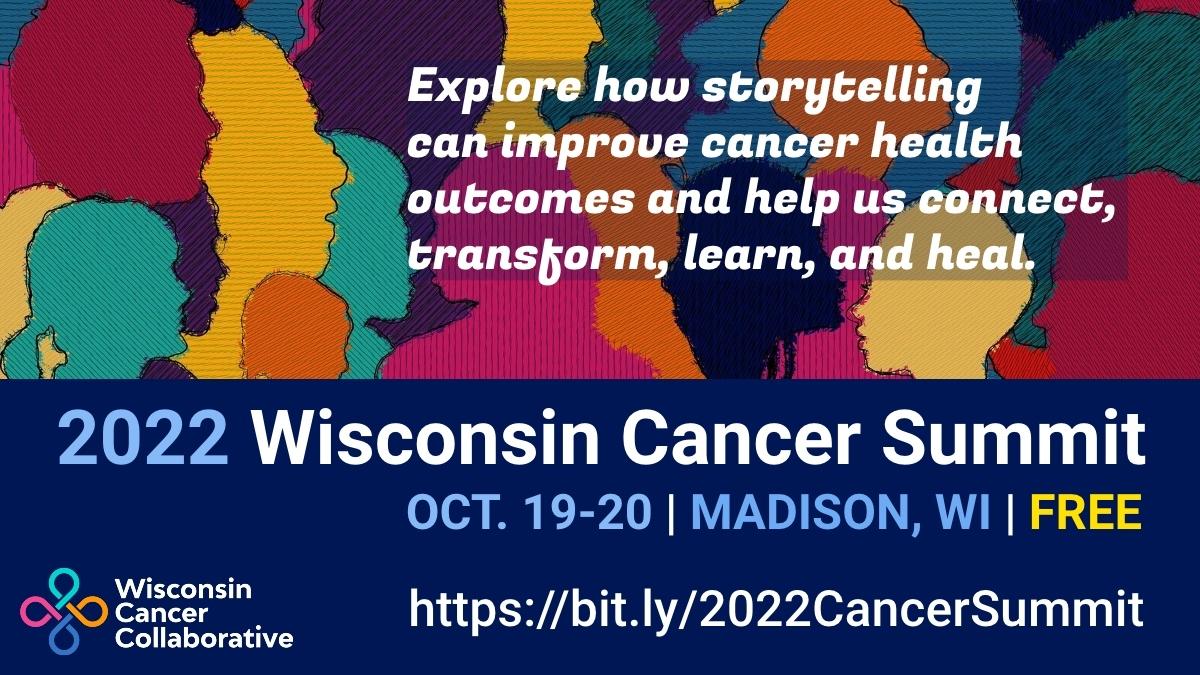 The 2022 Wisconsin Cancer Summit is just FIVE days away!
We can't wait to welcome our members and special guests to our first in-person gathering since October 2019.
See below for important Summit updates and highlights:
---
You still have time to register
If you haven't yet registered, there is still time to join us for the opening reception on Oct. 19, and the full day of sessions on Oct. 20, at the Edgewater Hotel in Madison. Explore the agenda and register here.
---
Download the Summit app
Connect with other participants, get the full agenda, explore speaker bios, and more — all on our Summit app. Download the app before the Summit starts. You can get the app here.
---
Don't miss the powerful production of Cancer Stories
We're kicking off the 2022 Summit with an opening reception featuring a performance of Cancer Stories — a powerful stage production from the Wisconsin Story Project that honors and celebrates the stories of people affected by cancer.
Learn more about Cancer Stories, and use the registration link to get tickets to this free community event.
---
COVID-19 safety precautions for all Summit participants
People with cancer are at higher risk of severe COVID-19 infection. To protect your fellow Summit participants and prevent the spread of disease, we're asking all participants to follow these precautions:
Stay home if you're sick. We encourage you to take a rapid COVID-19 test before you arrive. If you test positive or you're feeling sick, please stay home.
Wear a mask. We encourage all participants to wear masks, regardless of vaccination status. Free masks will be available at the event registration table.
Wash hands and use hand sanitizer. Please wash your hands regularly. Hand sanitizer will be available throughout the venue.
Use the color-coded lanyards. You will be able to choose from three different colored name tag lanyards to communicate your social distancing preferences.
Safely enjoy lunch. We're offering boxed lunches to give you the option of eating outside of the ballroom, if you prefer to eat away from the crowd.
---