About the 2022 Summit
Oct. 19-20, 2022 | Edgewater Hotel, Madison, WI
The 2022 Wisconsin Cancer Summit will explore the power of story across the cancer care continuum. We hope you'll join us!
Learn how storytelling can be used to improve cancer health outcomes, empower patients and providers, and help us connect, transform, learn, and heal.
This is an in-person event. Main sessions will be recorded.
All sessions are free to attend and open to the public.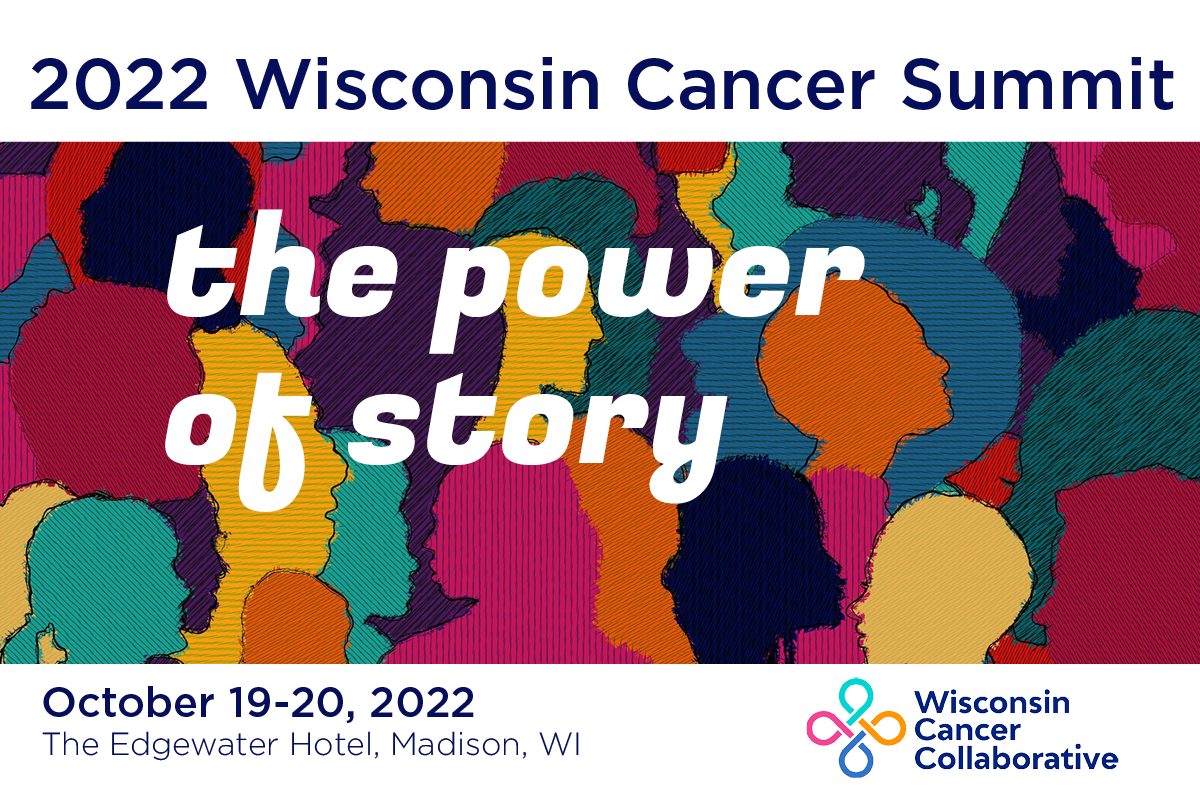 All Summit events are free and open to the public.
Members of the public who would like to attend only the Cancer Stories performance are welcome to do so.
If registering for multiple people (up to 10), please provide their full names and contact information.
You will receive an automatic confirmation email, plus additional information from staff closer to the Summit.
Exhibit at the Summit: Learn more, and contact Tina Pap at [email protected] to become a Summit exhibitor.
Sponsorship Opportunities: Learn more, and contact Tina Pap at [email protected] to become a Summit sponsor.
Room Block Information: Traveling from out of town? Reserve a room at the Edgewater Hotel by calling 608-535-8200. Under the "WI Cancer Summit" room block, King Deluxe rooms will be available at a rate of $131/night. Available until Sept. 19.
Need help? For questions about the event or your registration, please email Tina Pap at [email protected].
Wednesday, Oct. 19  |  6-8:30 pm
Edgewater Hotel, Madison, WI
Networking Reception
Cancer Stories performance, from the Wisconsin Story Project
Audience Q&A, with director, cast, and storytellers
Thursday, Oct. 20  |  7 am-4 pm
Edgewater Hotel, Madison, WI
Networking Breakfast
Purpose of the Day: Why Stories Matter, with Dr. Sandra Underwood, RN, PhD, FAAN, UW-Milwaukee
Setting the Stage: What We Learn When We Learn to Listen, facilitated by Joshua Wright, Cancer Health Disparities Initiative
Story Circle: Centering Survivors and Caregivers, featuring survivors and caregivers from across Wisconsin
Genetic Risk and Family History: How Sharing Stories Can Save Lives, with Jennifer Geurts, MS, CGC, Medical College of Wisconsin
Story Circle: The Power of Story to Advance Change, featuring a panel of advocates, experts, and survivors
Storytelling in Action: How Narrative Medicine Has Transformed a Clinical Practice, with Dr. Toby Campbell, MD, MS, Chief of Palliative Care, UW Health
COVID Safety Note: We're doing everything in our power to safely host an in-person event. We are closely monitoring case rates, and we are implementing disease control measures based on state and federal guidance. Should we need to switch to an all-virtual event, we will alert you as soon as possible. We will share more information regarding our COVID safety precautions as we get closer to the event.