Cancer data in your community
County-level cancer data can help you identify community needs, plan evidence-based interventions, and raise awareness in your community.
Explore our Interactive County Cancer Data Dashboard or download a printable PDF for your county.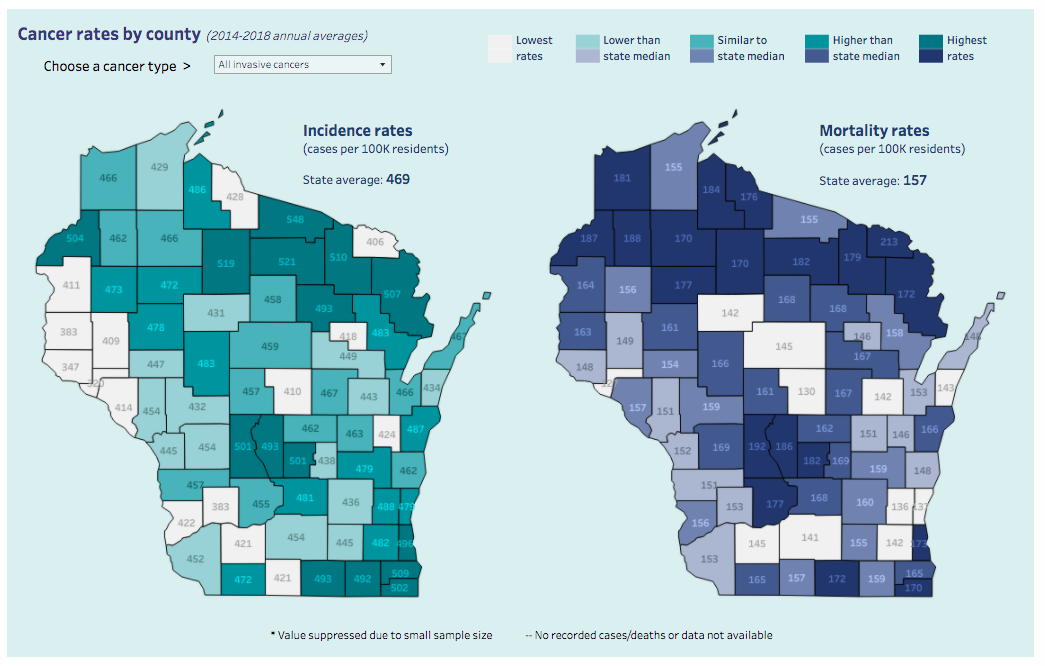 Interactive Data Dashboard
Use our interactive County Cancer Data Dashboard to explore the latest data about cancer risks, screening rates, and health outcomes for every county in Wisconsin.
Printable County Profiles
Our County Cancer Profiles offer a printer-friendly snapshot of cancer outcomes and risk factors for every county in Wisconsin. In 2023, we updated the profiles with the latest available data.
Printable 2023 County Cancer Profiles
View the printable PDF version of your County Cancer Profile. Select a county name from the drop-down menu below, and then click "View Profile."
Looking for state-level data? 
Our updated State Cancer Profile, featuring statewide cancer statistics, risk factors, and national comparisons, is here.
Looking for state-level data? 
2021 County Cancer Profiles
2019 County Cancer Profiles
2019 State Cancer Profile
Statewide cancer statistics risk factors, and national comparisons: