Network and learn from the comfort of your desk.
Our networking webinars connect you with new approaches to cancer control, best practices in action, and the opportunity to network with experts from across Wisconsin.
We occasionally host additional webinars to gather member feedback, extend the impact of in-person events, and share important news and updates.

Check back for information on upcoming webinars. Have an idea for a future webinar? Contact us today!
Pediatric Cancer in Wisconsin
In honor of September Pediatric Cancer Awareness month, this webinar will focused on the current state of pediatric cancer in Wisconsin.
Hear from our panel of experts working on pediatric cancer including featured speaker, Dr. Christian Capitini of the UW Carbone Cancer Center, as well the Wisconsin Cancer Reporting System and others.
This webinar explored:
Latest pediatric cancer data and trends in Wisconsin and Nationally
Current pediatric cancer treatment breakthroughs and research updates
Resources and programs available in Wisconsin that support pediatric cancer patients and survivors
Whether new to the Wisconsin Cancer Collaborative, looking to join, or a long time member needing a refresh on what our membership offers, this webinar offers a helpful overview of the Wisconsin Cancer Collaborative and membership benefits including:
High-quality tools to advance your work
Education and support from our outreach team
Access to our members-only Networking Directory
Opportunities to network and learn, in person and online
Cancer news, announcements, and policy updates
And more!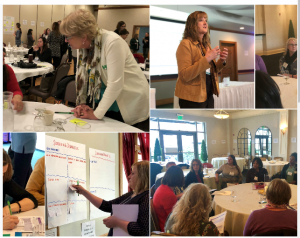 Cervical Cancer Prevention, Screening, and Treatment
In honor of National Cervical Cancer Month, we welcomed guest speakers from the Wisconsin Well Woman Program (WWWP) and Dr. Denise Uyar from the Medical College of Wisconsin (MCW).
This webinar explored:
Wisconsin's Well Woman Program and what services it offers.
An overview of patient navigation and how it helps connect patients to resources.
The importance of HPV vaccination and early cervical cancer screening.
Challenges and barriers to administering the HPV vaccine.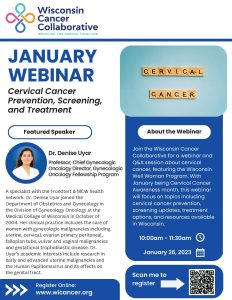 Helping Cancer Survivors Thrive: A Look at Equity, Data, and Culturally Responsive Survivorship Programming
In honor of National Cancer Survivor Month, we welcomed guest speakers from two member organizations: the Wisconsin Cancer Reporting System (WCRS) and the American Indian Cancer Foundation (AICAF).
This webinar explored:
Wisconsin's latest cancer survival data, and what the trends tell us.
Strengths and gaps in survivorship care in Wisconsin, and how to improve care for survivors.
The importance of providing culturally responsive survivorship programming for Indigenous survivors and caregivers, including tools to ensure our programs honor patients' cultural needs.
Action steps and in-depth discussion, through facilitated breakout groups.
Misha LaPlante, BA, Bay Mills Ojibwe/Blackfeet
Cancer Programs Project Manager, American Indian Cancer Foundation
Misha LaPlante is a Cancer Programs Project Manager for the American Indian Cancer Foundation. At the heart of what she and so many people in our communities believe is that we are all related, and our health is tied to one another. With this in mind, Misha joined AICAF to address cancer burdens affecting our Indigenous relatives. This role gives Misha the honor of working with cancer survivors, caregivers, and community members on initiatives across the cancer continuum, including prevention, screening, early detection, survivorship, and health equity. Misha feels grateful to work alongside survivors, coworkers, and other relatives who are committed to protecting the health of our community members and generations from systemic problems that impact our healthcare access and overall quality of life. Misha dedicates her work at AICAF to her grandmother, who was a colorectal cancer survivor, and all of our relatives who are affected by cancer.
Hayley Tymeson, MPH
Epidemiologist, Wisconsin Department of Health Services
Hayley Tymeson is the epidemiologist for the Wisconsin Cancer Reporting System, the population-based cancer registry for Wisconsin, housed at the Wisconsin Department of Health Services. Through her work, Hayley helps advocates use, explore, and understand the available data to better monitor cancer-related trends and identify priority populations. Her analysis and guidance was instrumental in updating Wisconsin's statewide cancer survival report, to be released this June.
Lindsey Petras, MSN
Cancer Programs Manager, American Indian Cancer Foundation
Lindsey Petras is the Cancer Programs Manager for the  American Indian Cancer Foundation and has a Masters Degree in Nursing Education. Lindsey previously worked for the Bad River Band of Lake Superior Chippewa Indians in their clinic in various roles. One of her main focuses while working at Bad River was to reduce the cancer burden in the community. She thoroughly enjoyed her work and after having a son and taking some time off, Lindsey felt a pull to return to the good work of reducing cancer burdens in Indian Country. This pull brought Lindsey to AICAF. She chose to work for AICAF because they strive to eliminate cancer burden in Indian Country on a national level. Lindsey feels privileged to work with a talented team of professionals, and within the Indian Community as a whole.
Alexandria Cull-Weatherer, MPH
Outreach Specialist, Wisconsin Cancer Collaborative
Alexandria Cull Weatherer is an outreach specialist with the Wisconsin Cancer Collaborative. She focuses on cancer survivorship, as well as vaccination for cancer prevention. She is an immunization, prevention, and survivorship advocate with prior experience at the Wisconsin Department of Health Services and the International Vaccine Access Center at the Johns Hopkins Bloomberg School of Public Health. Her work includes the recent assessment of cancer survivorship care services across Wisconsin, which identified strengths and opportunities for improvement.
Despite declines in traditional cigarette use, young people are using e-cigarettes at increasing rates. This Thursday, we welcome guest speaker Wendy VanderZanden, MPA, Executive Director of Community Action for Healthy Living, the tobacco-free alliance serving northeastern Wisconsin. Wendy will share current youth tobacco usage trends at the state and local level, and will share how her organization is successfully promoting tobacco prevention.
Decreasing tobacco use and exposure, especially among youth, is an important priority within the Wisconsin Cancer Plan 2020-2030. Join our webinar this Thursday, and learn more about what contributes to youth e-cigarette use, current trends, and how we can reverse this troubling phenomenon
COVID-19, Cancer Screenings, Care, and the Impacts on our Tribal Communities
A special webinar featuring Share the Care
Join our September webinar to learn more about the cancer issues affecting American Indians in Wisconsin, the importance of helping people get back to cancer screenings, and the impacts of COVID-19 in our Tribal communities.
About Share the Care: Since 2003, Share the Care has worked to reduce the high cancer burden among Wisconsin's American Indian populations by increasing cancer awareness, promoting cancer screenings, and supporting survivors and caregivers.
The Financial Toxicity of Cancer: Causes, Effects, and Potential Solutions
Cancer is one of the most expensive medical conditions a person can experience. From the time of diagnosis through end of life, cancer can create severe financial distress for patients and their loved ones. This financial distress can take a toll on physical and psychological well-being, and it can negatively affect patient outcomes.
Learn more about what contributes to financial toxicity; how it impacts patients, survivors, and families; and how we might reverse this troubling phenomenon.
Presented by Dr. Fumiko Chino, Radiation Oncologist, Memorial Sloan Kettering Cancer Center
Health Insurance Access and the Impact on Cancer Outcomes
Connecting Wisconsinites to quality health insurance coverage is a key part of increasing access to cancer prevention, early detection, treatment, and survivorship care necessary for cancer prevention and control.
In our July webinar, you'll learn more about:
Health insurance options in Wisconsin
New lower-cost coverage options made possible through the American Rescue Plan Act
How Covering Wisconsin and other enrollment assisters are working to provide free, local help to Wisconsinites in navigating these options
Opportunities to partner with Covering Wisconsin
Outreach and educational resources to help you take action
Presented by Courtney Harris, MSW, Outreach & Partner Development Manager, Covering Wisconsin
All About Adolescent Vaccinations - The latest information on COVID-19, HPV, and adolescent immunization
Adolescent immunizations have declined during the pandemic. How can we reverse this trend, now that many communities and schools are opening back up? Our June webinar shares the latest news about getting kids vaccinated against HPV and COVID-19.
Presented by Dr. James Conway, Pediatric Infectious Diseases, UW-Madison School of Medicine and Public Health
Skin Cancer Prevention During the Pandemic
Wisconsinites may be spending more time outdoors this summer, thanks to COVID-19. Learn how we can work together to reduce the risk of skin cancer during the pandemic.
PRESENTERS: Dr. Gloria Xu, the lead dermatologic surgeon in the treatment of thin melanoma as well as non-melanoma skin cancers, explains the burden of melanoma in Wisconsin and risk factors. Dr. Mark Albertini, a nationally known melanoma researcher who has led treatment efforts for patients with metastatic melanoma at the University of Wisconsin Carbone Cancer Center, explains treatment advances for melanoma patients.
Cancer Policy Review and Outlook for 2021
The past year witnessed the passage of several cancer-related bills, and the year ahead will be focused on the upcoming Wisconsin state budget. During our April webinar, we discussed the Governor's budget proposal and introduced the new 2021-2022 Wisconsin Cancer Collaborative Policy Agenda.
PRESENTER: Amy Johnson, JD, Policy Coordinator for the Wisconsin Cancer Collaborative
We experienced technical issues when recording. The recording begins part way through the webinar. 
Colorectal Cancer Screening: 2021 Update
Join us as Dr. Durado Brooks, the Deputy Chief Medical Officer for the Screening Business Unit of Exact Sciences Corporation, outlines the state of the science around colorectal cancer screening.
Topics include: epidemiologic trends in CRC incidence and mortality; demonstrated benefits of screening; CRC screening rate trends and the impact of the COVID-19 pandemic on screening; disparities in CRC screening and outcomes; discussion of similarities and differences between the screening guidelines from the ACS and the USPSTF; evidence supporting specific testing methods.
This webinar was not recording, per presenter agreement.
Cancer in the LGBTQ+ Community
LGBTQ+ communities are disproportionally affected by cancer. The executive director of the National LGBT Cancer Network will join us to share tools and strategies for improving outcomes for LGBTQ+ populations across the cancer continuum. Gain insight into the barriers, stress, and stigma that LGBTQ+ cancer patients and survivors can experience, and learn how you can better serve LGBTQ+ members of your community.
The Challenges of Rapidly Developing & Distributing COVID-19 Vaccines
As COVID-19 vaccines become more widely available, the public's knowledge and confidence in their safety, both before and after the vaccine, is an important part of our nation's vaccination effort. Learn about the development of the COVID-19 vaccine and the challenges we could face moving forward. We will be joined by Dr. James Conway, Medical Director for UW Health Immunization Programs, who will address the importance of COVID-19 vaccination and what cancer patients need to know about the vaccine.
COVID-19 and Cancer: Where Are We Now?
What has changed in the COVID-19 and cancer landscape in recent months? What have we learned since the pandemic began? Join us for a special webinar featuring Pat Remington, MD, MPH, and Noelle LoConte, MD, as they discuss new COVID-19 trends in Wisconsin, how COVID-19 is changing cancer care, and what it might take to get to the other side of the pandemic.
Putting the Plan into Action
How can we put the new Wisconsin Cancer Plan 2020-2030 into action? Share your input in our October webinar, and help the Wisconsin Cancer Collaborative decide how to prioritize action areas within the new Wisconsin Cancer Plan 2020-2030.
Palliative Care and Cancer
Palliative care is a critical part of cancer care, though sometimes it can be overlooked. Dr. Tim Jessick, chairperson of the Palliative Care Network of Wisconsin, will explain what palliative care is, how to have conversations about it, and why more cancer care providers should receive palliative care training.
Introducing the Wisconsin Cancer Plan 2020-2030
Join us as we unveil the Wisconsin Cancer Plan 2020-2030! Learn what's new in the latest Plan and how it can help you increase your impact. Fellow members will share how they use the Wisconsin Cancer Plan as a blueprint for action to guide their work.
COVID-19 and Cancer Risk Reduction
How has the COVID-19 pandemic affected cancer risk reduction behaviors, such as healthy eating, physical activity, and alcohol use? Join us as we take a look at these behaviors, with a special emphasis on alcohol use and cancer risk, and how Wisconsin's alcohol landscape has evolved during the COVID-19 pandemic.
COVID-19, Cancer Screenings, & Routine Vaccines
In the wake of COVID-19, cancer screenings and routine vaccination rates are seeing sharp declines. How can we ensure patients are getting the cancer screenings and vaccines they need? Join us for a special webinar examining cancer screening and routine vaccine delivery challenges and opportunities resulting from the pandemic.
COVID-19 and Cancer Treatment
How is cancer treatment changing because of COVID-19? How can we ensure patients are still accessing the care they need, during and after the pandemic? Join us for a special webinar examining cancer treatment issues in a COVID-19 world.
COVID-19 and Cancer Patients
Learn more about COVID-19's implications for cancer patients. We will discuss what we do know about COVID-19 and cancer patients, and where you can turn for reliable information. Also hear from fellow members as they share how they are handling this crisis from a cancer perspective.
2020 WI Cancer Summit & Exciting Updates
Be the first to learn about our exciting updates and share your ideas for the 2020 WI Cancer Summit!
What can we do for cancer in YOUR community?
Medical Marijuana in Wisconsin: A Cancer Perspective
Join us for a webinar exploring the policy and public health considerations of medical marijuana, from a cancer control perspective. Amy M. Johnson, JD, policy coordinator for the Wisconsin Cancer Council, will explain existing laws in Wisconsin, introduce our latest Issue Brief on medical marijuana, and review medical marijuana legislation pending in our state government.
Presented by Amy Johnson, Policy Coordinator with the WI Comprehensive Cancer Control Program and WI Cancer Council
Human Papillomavirus (HPV) Disease and HPV Vaccination Rates in Wisconsin
Join us for a webinar focused on HPV disease and vaccination rates in Wisconsin. Learn about HPV infection and vaccination, with special focus on HPV-attributable cancer rates and HPV vaccination rates in Wisconsin.
Presented by Alexandria Cull Weatherer, MPH, Outreach Specialist, WI Comprehensive Cancer Control Program
Tobacco Treatment for Cancer Patients Who Smoke
In honor of the Great American Smokeout on Nov. 21, join us for a webinar focused on tobacco cessation. Learn about evidence-based approaches and resources that can help patients quit smoking, with a special focus on cancer patients who smoke.
Presented by Allison Gorilla, MPH, Outreach Specialist, University of Wisconsin Center for Tobacco Research and Intervention (UW-CTRI)
In lieu of our monthly networking webinar, we gathered in person for the 2019 Wisconsin Cancer Summit, where we explored the theme of Cancer Survivorship: Lessons from the Front Lines.
Cancer Policy in Wisconsin
Join us for an overview of health- and cancer-related items in the 2019-2021 Wisconsin state budget, and learn more about cancer-related legislation currently pending before the state legislature.
Presented by:
H.J. Waukau, Manager of Advocacy and Regulatory Affairs with the Wisconsin Medical Society; 2019-2020 WI Cancer Council Policy Committee Chair.
Amy Johnson, Policy Coordinator with the WI Comprehensive Cancer Control Program and WI Cancer Council.
WI Cancer Plan 2020-2030 Feedback Webinar
In August, we hosted a special all-member webinar to share progress and invite your feedback as we develop the new Wisconsin Cancer Plan 2020-2030.
Presented by:
Sarah Kerch, WI Comprehensive Cancer Control Program Director
E-Cigarettes & Tobacco in Wisconsin
Join us for the August Networking Webinar, and learn more about current trends related to e-cigarettes and tobacco, as well as policy opportunities to address the e-cigarette epidemic and reduce tobacco-related health disparities.
Presented by:
Sandy Bernier, Tobacco Prevention & Control Program Coordinator, Fond du Lac County Health Department; and Darcie K.G. Warren, Partnership for a Tobacco Free WI Coordinator, American Lung Association
Decreasing Cancer Screening Disparities: Success Stories
Join us for the July Networking Webinar to hear success stories from our 2018-2019 Implementation Grantees! As part of our Action Plan to Decrease Cancer Screening Disparities, we funded six health care systems working to reduce screening disparities in their clinics. Join us to hear what they accomplished, what they learned, and how you can apply their successes to your own work.
With special guests from: Access Community Health Centers, Gundersen Health System, Kenosha Community Health Centers, Lakeshore Community Health Center, NorthLakes Community Health Centers, & Scenic Bluffs Community Health Center
Feedback Session: WI Cancer Plan 2020-2030
In lieu of a June Networking Webinar, we hosted an all-day Feedback Session to gather input for the next WI Comprehensive Cancer Control Plan. Thank you to all who joined us!
Presented by:
Sarah Kerch, WI Comprehensive Cancer Control Program Director
Cancer Survivorship & the WI Cancer Summit
Discuss pressing topics in cancer survivorship and learn about a new article, Equitably Improving Outcomes for Cancer Survivors and Supporting Caregivers: A Blueprint for Care Delivery, Research, Education, and Policy. We'll talk about the 2019 WI Cancer Summit, which will focus on Survivorship. Come prepared to share what you've been doing and what you'd like to learn more about!
Presented by:
Sarah Kerch, WI Comprehensive Cancer Control Program Director
All About Alcohol & Cancer
How can we increase awareness about the link between alcohol and cancer? Join this webinar to learn about the science behind the alcohol-cancer connection, learn what resources are available, and discuss how you can put these resources to work in your community or system.
Colorectal Cancer Screening
Speak with representatives from the National Colorectal Cancer Roundtable, who will share details about their new initiative, 80% in Every Community. We will have plenty of time for questions and for discussing work happening in Wisconsin.
Presented by:
Caleb Levell, Director, Programs and Partnerships National Colorectal Cancer Roundtable American Cancer Society
Driven by Data: A Progress Report on the WI Cancer Plan
The WI Cancer Plan advances 13 priorities for cancer control and prevention. How well are we doing as a state? Let's explore updated data that measures progress in the WI Cancer Plan 2015-2020. In addition, we will discuss innovative ways to use the newly released 2019 County Cancer Profiles.
Presented by:
Steph Shelton, WI Comprehensive Cancer Control Cancer Data Specialist
Decreasing Barriers to Specialty Care for People Without Health Insurance
Milwaukee's Specialty Access for the Uninsured Program (SAUP) replaced a fragmented care delivery system to improve specialty care for uninsured patients. How can SAUP offer a model for your community.
Presented by:
Milwaukee Health Care Partnership