New data from the Wisconsin Immunization Registry shows stalled progress on HPV and hepatitis B vaccine rates — emphasizing major opportunities for cancer prevention and outreach efforts.
Between 2019 and 2021, HPV vaccine rates for children in Wisconsin ages 11-12 showed no improvement, and hepatitis B vaccine rates saw large declines in a majority of Wisconsin counties.
The HPV vaccine protects against at least six types of cancer. The HPV vaccine is recommended for children ages 11-12 for optimal benefit. The hepatitis B vaccine protects against liver cancer. It is now recommended for all newborns, children and teens, and adults up to 59 years.
See how the 2019 and 2021 data compare: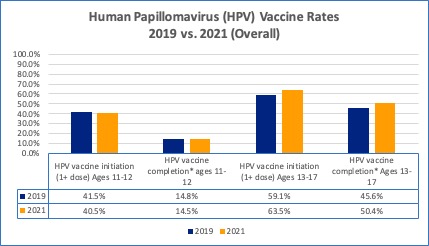 ---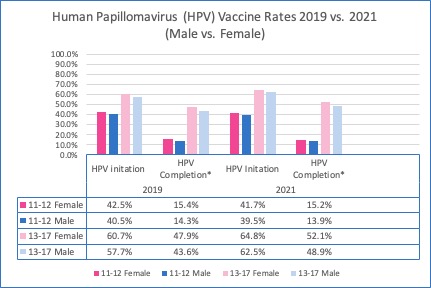 ---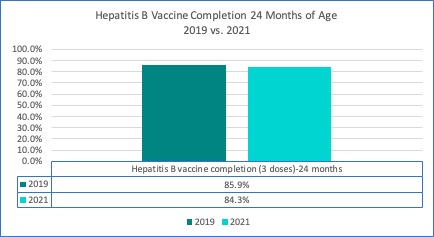 ---
Other key findings include:
HPV vaccine initiation rates have improved slightly among children ages 13-17 (59.1% in 2019, to 63.5% in 2021). HPV completion rates among children ages 13-17 also show slight improvement (45.6% in 2019, to 50.4% in 2021).
The gap in vaccination rates between females and males ages 13-17 seems to be narrowing. Vaccine rates for males saw the greatest improvement (5.3 percentage point increase for males, compared to a 4.2 percentage point increase for females).
Several counties in Wisconsin saw small declines in HPV vaccine completion for 11- to 12-year-olds in 2021 compared to 2019.
Hepatitis B vaccine completion rates for 24-month-olds fell by one percent (85.3% in 2019 compared to 84.3% in 2021).
Learn more and take action:
Increasing cancer prevention vaccine completion is an important part of the Wisconsin Cancer Plan 2020-2030.
Please contact us to learn how to promote cancer prevention vaccines in your community.
---
Thank you to the Wisconsin Department of Health Services Wisconsin Immunization Program for providing the input and data needed for this update.