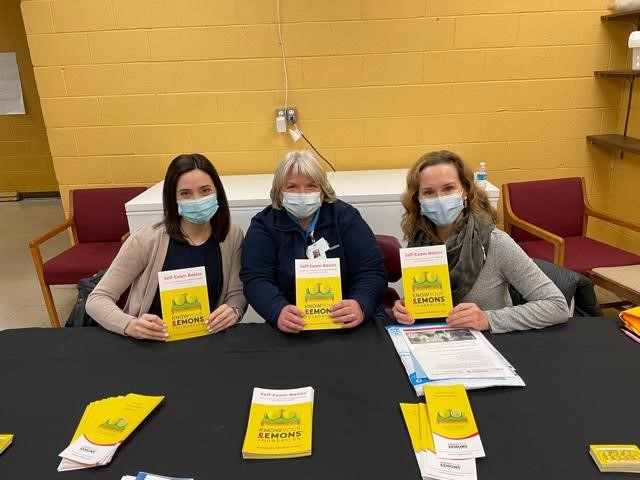 Welcome to our new Member Spotlight series! Learn how fellow members are overcoming challenges, advancing equity, and increasing impact. Want to share your story? Let us know!
Ascension Southeast Wisconsin:
A creative approach to survivorship care during COVID-19

When COVID-19 made in-person patient education too risky for people with cancer, staff at Ascension Southeast Wisconsin came together to find creative ways to meet their patients' needs.

Chris Kulas, MSN, RN, survivorship and high-risk program coordinator for Ascension Southeast Wisconsin, shares how they created an online video series, what they hope to do next, and what lessons others can learn from their work.

Tell us about Ascension SE Wisconsin and the communities you serve?
Kulas: We serve some communities that are affluent, as well as some of the poorest communities in the state. We're working on meeting the needs of all the people we serve.
We have some areas where the disparities are so high. Working out the insurance and the finances, educating people about cancer care – it's hard for a lot of people to work through those problems, whether it's working your way through the health system, or even just getting to appointments.

How did the video series come to be?
Kulas: We wanted to help people learn how to eat healthy and what the benefits are, and how increasing your physical activity can decrease your chances of getting more cancer or a recurrence of cancer. With COVID, it's been a challenge, so we've had to go outside our box and think about what we could do differently.

In a previous position, I created a video to teach patients about medication side effects. It became a best practice for discharging patients from that unit. It seemed so simple, but it's something we hadn't thought to do before.

In March 2021, we formed a survivorship committee with people from all parts of the organization, physicians to physical therapy to nutrition.

We came up with five video classes on healthy eating and physical activity. It's not just enough to say "healthy eating," because that can mean different things to different people. It's really important to break it down to explain what a healthy diet means.

We used Google slides for the information for each of the classes. We filmed in conference rooms in the hospital and used space at the hospital in Racine for the cooking videos.

We used all in-house partners. Some of our presenters had past experience in doing demonstration videos, but not everyone. Those who didn't have experience got comfortable pretty fast. We have a staff videographer who had filmed cooking demos before, so he could help guide us.

Our first video was up and running in June 2021, and our last two videos were posted in November.

What are you planning next?
Kulas: We're creating a survivorship website for our system so that people can watch the videos with a single click. That way people won't have to register and provide personal information.

People are wanting to make more [videos]. They've really enjoyed the experience. In the future, we might do a grocery store shopping video or a farmer's market shopping video. I'd love to do a series dedicated to chemo side effects and how to treat fatigue.

The opportunities are endless. It's just trying to get the right people, the time, and getting it all together.

What are other highlights of your survivorship work?
Kulas: We've started a monthly newsletter that we share digitally and have printed copies in clinics, to highlight different things about cancer survivorship. And we've started a high-risk cancer program, starting with breast cancer, focused on communities with greater health disparities.

What advice do you have for other organizations?
Kulas: Be creative. Figure out what resource you have and what you can do with it. I learned a lot about what Ascension has available. Educate yourself and then use the resources you already have.

Make sure you're not being judgmental in helping people learn how to better take care of themselves. There can be a lot of judgment in how we talk about food, diet, and physical activity.

At the end of the day, what inspires you?
Kulas: My mom is a cancer survivor. There is so much opportunity to help people, but she wasn't given that opportunity. I see the gaps in care that she received and that other people have received. But it doesn't have to be that way. That's what motivates me.
How to watch the videos:

Choose from the list below, then click register. Registration is free and will give you access to the videos you want to watch.

Survivorship Nutrition Series:
Class 1: Breakfast
Class 2: Lunch
Class 3: Dinner
Class 4: Snacks

Survivorship Series:
Activity for Beginners
Ascension SE Wisconsin has generously made these videos available for use by any organization in the state.

To see the complete list online, go to Ascension's Classes and Events website, enter "Milwaukee" in the location field and "survivorship" in the class/event field, then click search. From the list of search results, click on event details to register for the video of your choice.
Ascension SE Wisconsin participated in our 2021 Survivorship Community of Practice. Other staff members who made this work possible include: Mark Albertini (audio video specialist), Mandy Mindin, RD, MS, CD, and Andrea Walton, RDN, CD, CSO (dieticians), Sarah Weideman, OT (occupational therapist), Dayna Hein,PT (physical therapist), Deanna Birling, MSN ANP-BC AOCNP (nurse practitioner, radiation oncology), and Sherri Costa MS, RN, AOCNS® (regional manager oncology support services).
THANK YOU!