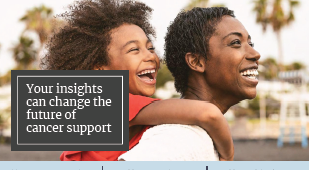 The Cancer Experience Registry™ (CER) is an opportunity for patients, survivors, and caregivers to share those stories, including their concerns about quality of life, access to care, the impact of cancer on work, treatment decision making, and more, to improve the quality of cancer care and support on a local and national level. 
Please help us recruit 100 new cancer patients, survivors, and or 100 new caregivers into the CER so that a curated patient, survivor, or caregiver data report can be created for Wisconsin. These reports may include data on participant sociodemographic characteristics, treatment experiences, health behaviors, quality of life, and more.
Please consider sharing the Cancer Experience Registry with your network of individuals impacted by cancer: https://www.cancerexperienceregistry.org/join/WI (This is Wisconsin's specific URL.)
A promotional CER Toolkit is available. Please remember to use Wisconsin's URL in your materials.