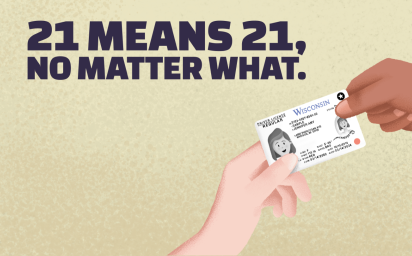 Wisconsin Department of Health Services has released their new Tobacco 21 Campaign. This statewide campaign includes includes billboards, TV ads, internet ads, social media posts, pump toppers, and radio spots that emphasize one key message: 21 is the minimum legal sales age for tobacco and vape products—no matter what.
The importance of this campaign is highlighted by recent Synar Surveys, the annual statewide assessments of the retailer violation rate for underage sale of tobacco products. In recent years, the rates at which retailer's sold tobacco products to underage purchasers has been the highest in over a decade, at 14.1% in 2021, and 11.9% in 2022, compared to the pre-pandemic rate of 5.5%.
The Tobacco 21 Campaign is directed at educating both tobacco retailers and the general public, ultimately aiming to prevent youth access to tobacco and nicotine products.
Explore resources from the Tobacco 21 Campaign: