Thank you to all who joined us for the 2022 Wisconsin Cancer Summit, Oct. 19-20th!
Event recordings, and slides are archived below. Thanks to our presenters for making these available!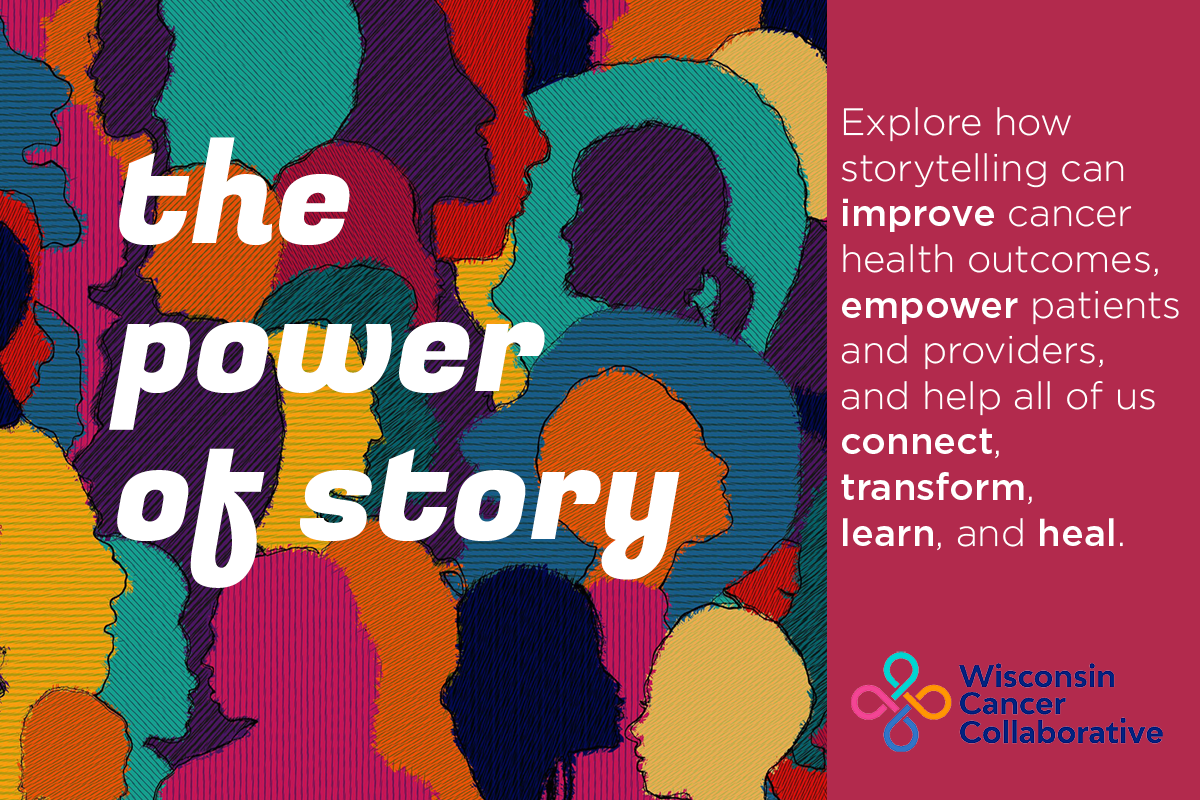 SAVE THE DATE FOR THE 2023 WISCONSIN CANCER SUMMIT. November 1 & 2 at the Wilderness Resort in the Wisconsin Dells.
Congratulations to our 2022 Award Winners:
Cancer Stories is a powerful stage production from the Wisconsin Story Project that honors the personal stories of people affected by cancer.
For more than a year, Wisconsin Story Project co-founders Talish Barrow and Mike Lawler interviewed cancer survivors, caregivers, and oncologists.
Cancer Stories brings these interviews to life, with the help of an experienced cast of actors. Each character on the stage represents a real person, and the stories they share are taken directly from the interviews, word for word.
The end result is profound, candid, and deeply human.
Dr. Sandra Millon-Underwood opens the summit with a meaningful presentation, speaking on the importance of stories and why they matter both in life and in the work that you do.
Mark Denning opens the Summit by providing a powerful welcome session and helping to set the intentions for the day. He touches on how story can be a powerful tool.
Joshua Wright leads a workshop, "What We Learn When We Learn to Listen", to help Summit participants identify the core values and expectations for the day for listening with respect and intention.
Hear the personal stories of 5 different individual's experiences with cancer. Each discusses how cancer has impacted their lives and what they have taken from their journeys. Their stories are real, powerful, and meaningful.
Panelists featured:
Bernadette Priestley
Anne Egan-Waukau
Jacqui Regenbogen, PhD
Mayhoua Moua
Debbie Jones, MD
This panel was moderated by Crystal Landeros, MPH, CHES.
By Jennifer Geurts, MS, CGC, Medical College of Wisconsin       
Jennifer Geurts discusses the importance of knowing genetic risk and family history when it comes to cancer. She highlights how sharing stories can save lives.
Due to technical difficulties, only the first 17 minutes of Jennifer's presentation was recorded.
By Joshua Wright, University of Wisconsin Carbone Cancer Center
Joshua Wright leads Summit participants through a brief re-centering and re-grounding exercise. He facilitates discussion around take-aways from the morning and sets the stage for the afternoon presentations.
By Toby Campbell, MD, University of Wisconsin Carbone Cancer Center
Dr. Toby Campbell describes the methods used in the palliative care program at the University of Wisconsin Hospital to integrate the use of narrative and storytelling into their daily practice. This includes 6-word and 55-word short stories, vivid vignettes, narrative workshops, story readings, and an internal podcast.
Due to technical difficulties, the last 20 minutes of Dr. Campbell's presentation was unable to be recorded.
Hear the stories of 4 individuals different experiences with cancer, both professionally and personally.
Panelists featured:
Dawn Shelton-Williams, MSW, LCSW
Mike Lawler
Wendy Carey
Minerva Cornejo
This panel was moderated by Annika Swenson, MPH, CCRP.