Join us for the all-virtual 2021 Wisconsin Cancer Summit.
Building Blocks for a Strong Wisconsin: The 2021 Wisconsin Cancer Summit will bring together health care leaders, public health advocates, policy makers, researchers, and community advocates to explore new tools to improve health and cancer outcomes in all our communities.
This event is free to attend.  All sessions will be held via Zoom. Please register for each day separately.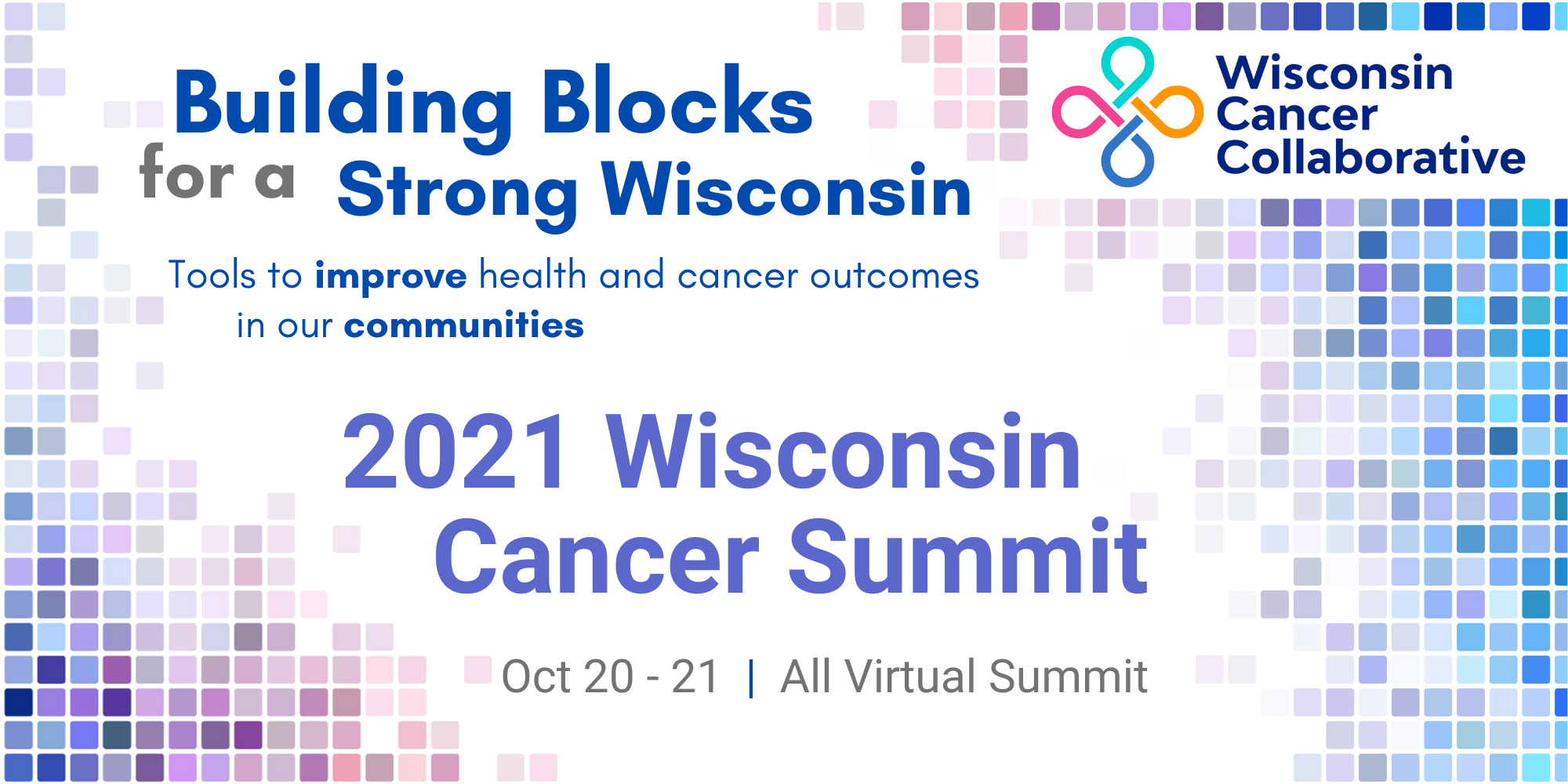 Please note: To protect the health and safety of participants, as well as the patients and communities they serve, the 2021 Wisconsin Cancer Summit will be hosted as an all-virtual event.
Please register for each day separately. Registration will remain open until the event begins.
Download the event materials: Agenda at-a-Glance | Summit Booklet
HIGHLIGHTS INCLUDE:
COVID-19 and the Impacts on Cancer Services: COVID-19 has had huge impacts on cancer screening, treatment, risk reduction, and more. We will explore those impacts and what they might mean for our state and the cancer care continuum as we look to the future.
Success Stories: So many of our member organizations have responded to the challenges of the past year in creative ways to meet the needs of their patients, clients, and communities. Learn how you can apply these success stories to your own work.
Networking: Network with peers from across the state who are working in your area of cancer control.
HIGHLIGHTS INCLUDE:
KEYNOTE: Improving Health and Cancer Outcomes in Our Community: A Vision and Hope for the Future, with Jasmine Zapata, MD, MPH, Chief Medical Officer and State Epidemiologist for Community Health at the WI Department of Health Services.
Health Equity and Cancer: How do social determinants of health -- such as job security, housing, and access to healthy foods -- affect cancer outcomes in Wisconsin? How can we use health equity data to build community programs that make an impact?
A Conversation about Mental Health: COVID-19 has taken a toll on the well-being of those who work in health care and public health. How can systems-level changes help to reverse this toll?
Notes about registration:
Registration is free.
When filling out your registration form, please provide the mailing address where you would like to receive your Summit thank you gift!
Zoom Meeting Guide: Helpful tips for a successful virtual experience.